Some say, hard work trumps talent. Well Jon Santos has both—the work ethic of a man who's hungry for the next great opportunity and the talent of an industry all-star. It's a pretty lethal combination. Add to that the fact that he's refreshingly humble and grateful and it's no wonder he continues to rise to the top.
You can't teach grit or perseverance. You have to show it by example.
I am driven to succeed because of my family, my wife and two kids. They're 14 and 5 and I need to show them you can do anything no matter how hard it is. I have to create no matter what and that can be the hardest thing to do.
It can't be easy. Especially in a shop that sees hundreds of thousands of people, local and from everywhere, wanting anything from the simplest shape to the most complex design.
Sometimes clients come in and want to put all these ideas into a small tattoo (or a big one). Simplifying it is a challenge. But we need to come up with solutions. That's our job.
Jon's balance of art and customer service serves him well. It made him a perfect fit for Hart & Huntington and he's thrilled to be a part of our family.
It's a great company to work for. The environment they've created is a good reflection of who I want to be as a person. They kill it every day. No slack, no sleep. They do great work no matter what. The people are great. I'm excited to be a part of it, I still can't believe it honestly.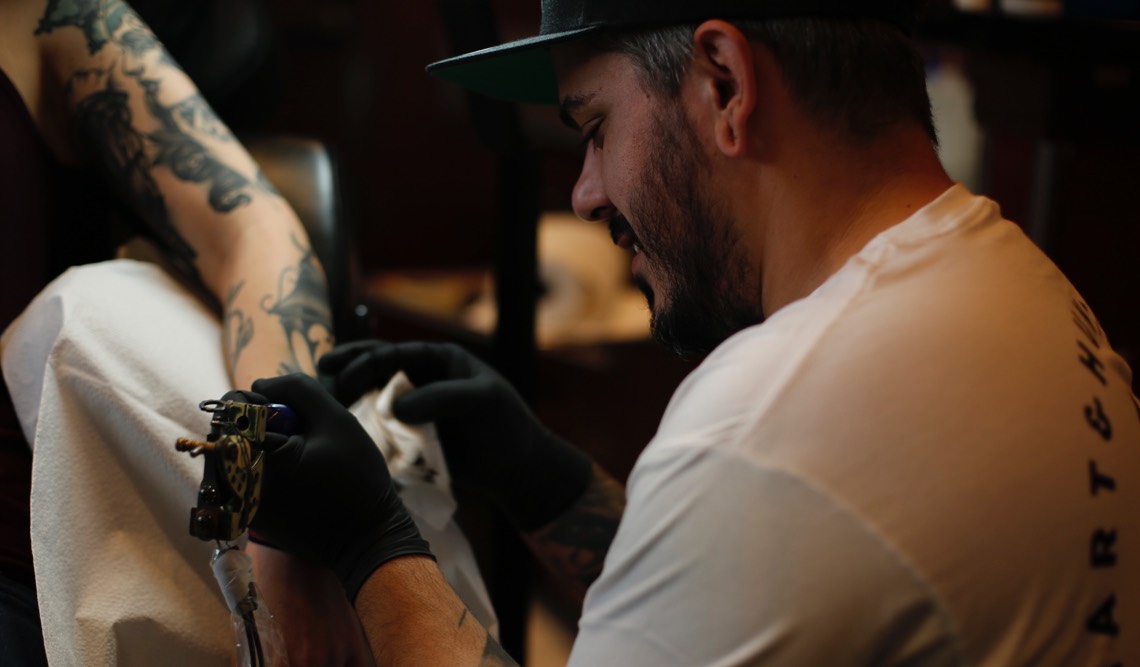 Art came into Jon's life early on, as his family had artistic talents including painting, drawing, music and cooking. But it was his pretty conservative mom, who got her first tattoo, that made him pay attention to it as a possibility.
My mom got her first tattoo when I was 14 or 15. My whole life, she tried to do everything by the book. But I thought, now she has a cool edge to her. The more she bought into the idea, the more I got into it.
His parents still encouraged him to get a more stable degree so he went to college for communications and public relations. But soon after, he realized a non-artistic, non-creative environment wasn't for him.
I quickly got an apprenticeship to begin learning how to tattoo. It wasn't formal and I had to take things into my own hands. I met some friends who held my hand for a while, but after 6 months they threw me to the wolves and away I went. It was hard hard work. It just shows that if you stay true to what your goals are, you can get through anything.
Aside from learning the history behind tattooing, he learned discipline.
I did a lot of coffee runs, washed cars and I could never question authority. It translates to the way I treat my clients. If a client comes in and says, I want this, I don't question it. I do the best with what you give me, and create a tattoo that will last forever.
This really feeds into his work ethic. Jon wishes more younger artists had it.
Nowadays, some artists don't have a work ethic that the older generations would be proud of. 
"You have to come in, put in the extra hours, work hard, be productive and do a good job. It's that simple."
When he gets down to it, he creates pieces in just about every style. Like a sponge, he learns from every artist around him.
I might work with Russ one day and I'll see what he does with watercolor and it will change what I do. I also believe you develop with every tattoo you do.
One of his favorites was a memorial tattoo he did for a woman who just lost her husband.
As soon as she saw it she began bawling, which made the whole shop lose it. It touched everyone in the shop that day. Experiences like that are what make the magic of what we do. When you get to give a client something they'll remember forever, that's really something special.
As for the future of his career, Jon will continue to race against his own time, beating his best as much as he can.
I always want to do better. I work with great artists. But I strive to be better than them. It's a friendly competition. Otherwise we'll all be mediocre.
He's as far from mediocre as it gets.